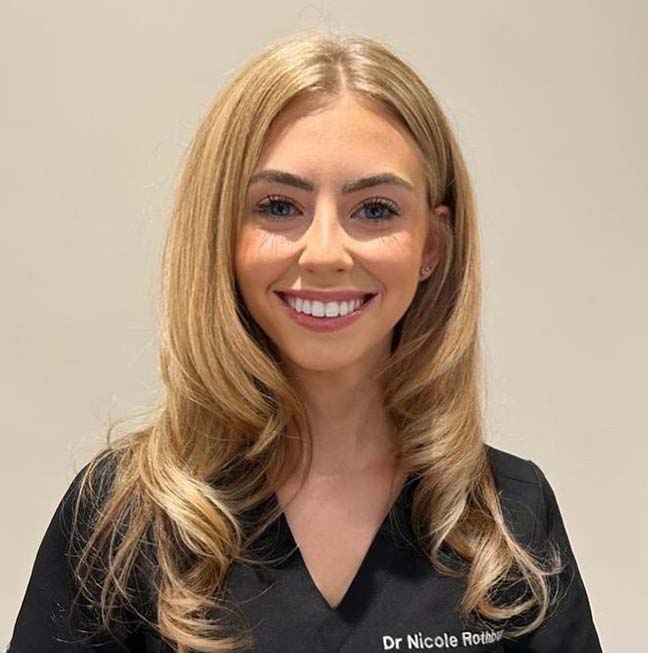 Nicole Rothburn
Associate Dentist
BDS Cardiff University 2020 GDC Number: 289025
Nicole graduated from Cardiff University in 2020, with a first-class honours in Bachelor of Dental Surgery.
Nicole is passionate about dentistry and provides a holistic approach to all patients. Nicole has developed a special interest in minimally invasive orthodontics, undertaking extensive courses both with Invisalign and the IAS Academy.
Nicole has trained at the world-renowned Harley Academy Clinic for Aesthetic Medicine. Her training has enabled her to provide treatment for grinding and clenching of teeth, as well as gummy smile and anti-wrinkle treatment for fine lines and wrinkles.
Nicole is also undergoing a diploma in Endodontics (root canal treatment) with the prestigious Aspire Dental Academy from October 2024.
Nicole prides herself in providing a calm and relaxing environment, thereby ensuring that each patient is provided with a personalised treatment plan.
Nicole is a volunteer at The Dental Wellness Trust and has previously volunteered with the Dental Brigade in Honduras where she provided emergency dental care to those with no access to dental treatment.
Outside of dentistry, Nicole is an avid gym-goer, pilates enthusiast and food fanatic, eating her way through the London food scene!
BACK TO OUR TEAM